State fremendo per il Black Friday?
Siete delle make-up & fashion addicted?
Siete nel posto giusto!
Ciao a tutte Dreamy Girls, è ora di pensare Black Friday! ❤
Oggi voglio parlarvi (con un giorno di anticipo: lo shopping va studiato e programmato!) di un argomento decisamente scottante per noi beauty&fashion-addicted: l'imminente Black Friday!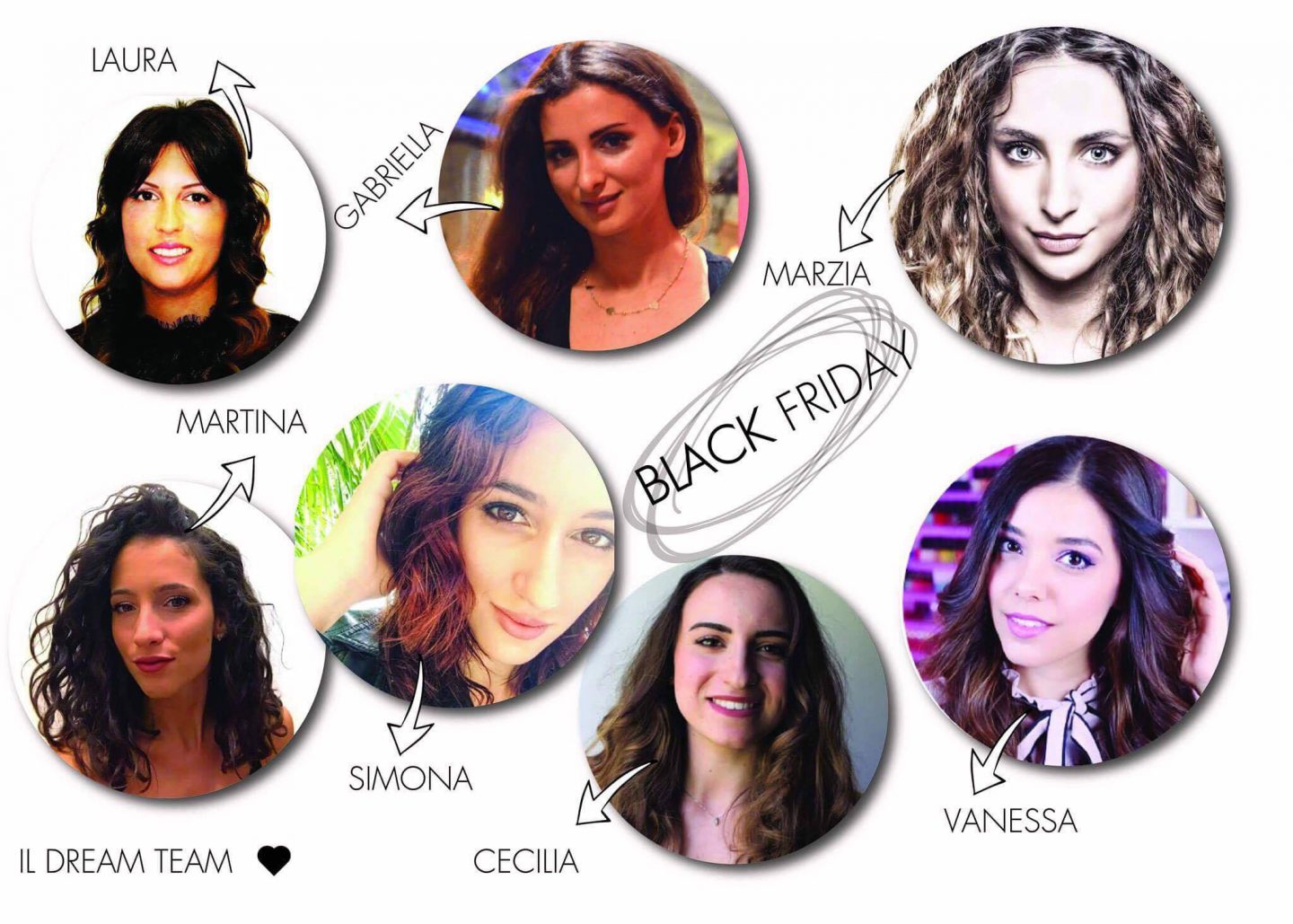 Come ogni anno attendiamo questa incredibile giornata di sconti che potrà permetterci di ottenere un bel bottino di prodotti ed accessori che avevamo da tempo nella nostra wishlist.
Ma quali sono i siti e negozi da tenere sotto controllo?
E soprattutto, cosa c'è nella wishlist del Dream Team?
Segnate sul calendario il 24/11/17 e il Cyber Monday del 27/11/17 e siete pronte per andare oltre!
La nostra wishlist
Sbirciando nella wishlist di Laura non possiamo rimanere indifferenti davanti a questo fantastico abitino di Asos, non è perfetto per le feste?
La stilista del Team non poteva non proporci un cappotto color cammello, vero must di quest'anno, di Tally WeiJL.
Dal 2016 Martina ha una sua linea di accessori The Other Side, e parteciperà al Black Friday! Ecco una sua proposta, che sarà scontata per il 24!
Adora inoltre queste sabot di pelo di Oysho, non sono fantastiche?
Cecilia ci suggerisce di tenere ovviamente sotto controllo Sephora Italia, che di sicuro parteciperà al Black Friday e al Cyber Monday, ma non ha ancora dichiarato in quali modalità. Non ci resta che segnarci alla newsletter e sperare che il prodotto che tanto agogniamo sia effettivamente scontato!
Nella sua wishlist troviamo questo bellissimo cofanetto di Too Faced.
Onestamente anche sto io sto sperando con tutte le mie forze che vada in sconto!
Inoltre sempre su Sephora farà eventualmente scorta di queste salviettine.
Io vi suggerisco di dare un'occhiata a Sephora Francia, dove i saldi sono effettivamente cominciati e sono presenti sconti molto molto interessanti! Potrebbero essere una preview di quelli che avremo effettivamente da noi.
Ad esempio c'è il 30% di sconto su tutti i profumi!
Indecise su quale scegliere? Questo post sui profumi del momento fa per voi.
E per quanto riguarda Zara (stesso discorso, ancora non si conoscono le modalità del Black friday: vi consiglio di segnarvi alla newsletter) ha messo gli occhi su questi pantaloni di tendenza.
La nostra hairstylist ha ovviamente nel suo carrello un arricciacapelli, nello specifico questa meravigliosa limited edition di ghd!
Che cosa ci propone invece la nostra Vanessa? Ovviamente un abitino perfettamente nel suo stile, che ha fatto letteralmente impazzire anche me!
E infine cosa c'è nella mia, personale lista dei desideri? Più o meno tutto lo scibile umano.
La wishlist si allunga, il conto in banca si dimezza, ahimè!
Scherzi a parte, ho selezionato per voi qualche capo che sto monitorando!
Di Zara mi ha colpito particolarmente questo abitino, perfetto per non passare inosservate nelle prossime festività!
Per quanto riguarda la mia passione per i viaggi, sto ovviamente tenendo sotto controllo anche varie compagnie aree Low Cost come Ryanair! Sempre da monitorare in occasione del Black Friday per organizzare tanti bei weekend in Europa!
Per quanto riguarda nello specifico il Cyber Monday, sto tenendo sotto osservazione anche Amazon per eventuali offerte su una tavoletta grafica, che bramo da tempo!
E per quanto riguarda Victoria Secret?
La celebre casa di lingerie ha dichiarato che daranno il via a sconti incredibili per questo Black Friday!
Cosa aspettate a dare un'occhiata al loro sito?
Io mi sono innamorata della loro linea sport, già scontata, perfetta per anche per la pole dance, sport che pratico!
E' una linea stupenda, con tantissimi modelli! Vale la pena dare un'occhiata!
Se vi incuriosisce il loro recentissimo Show, ne abbiamo parlato qui.
Da salvare nei preferiti sicuramente anche il sito di Kylie Cosmetics se siete delle fan della linea make-up della giovanissima di casa Kardashian: in arrivo la nuovissima limited natalizia, e quindi anche i relativi sconti!
Tutta italiana invece la linea Mulac firmata dalla youtuber nostrana LaCindina, che parte già con ottimi saldi per il Black Friday in concomitanza al lancio della nuovissima palette Different 2!
A me incuriosisce molto, a voi?
Lista dei siti e shops che partecipano al Black Friday
20% su tutto con il codice WIN20
NA-KD DE
30% off all full price items
Code: BLACKWEEK
Today: 60% off selected NA-KD items
ZALANDO DE
20% off party styles
Code: PARTYXBLACK
Ends at midnight
ZALANDO IT
Sconti su alcuni capi
Pimkie FR
Mid-season sale
20% off on a selected range
Cult Beauty UK
Free shipping on all orders over £15
Beauty Bay UK
Up to 30% off
Douglas DE
30% off selected products
T&C: until the 24/11
Sephora FR
30% off a big selection of products
T&C: until the 27/11
Look Fantastic DE
12% off on a selected range
Code: ZEIT
Sconti nuovi ogni giorno
Fino al 50% off su alcuni prodotti
Ulteriori consigli: iscrivetevi alla newsletter dei brands che maggiormente vi interessano per rimanere sempre aggiornati sugli sconti!
Ragazze, questo viaggio nel mondo dello shopping e del Black Friday finisce qui!
Il post vi è stato utile?
Quali sono i capi che vi sono piaciuti di più?
E soprattutto, cosa c'è nella vostra wishlist?
Farete shopping compulsivo o avete le idee chiare su cosa prendere?
Fateci sapere tutto qui sotto nei commenti!
Marzia