Il rossetto rosso, un grande classico oltre che un must have dei nostri beauty!
Vedremo quale rossetto rosso è il preferito di ogni ragazza del Dream Team e di Vanessa, siete pronte a scoprirli?
Il 5 dicembre a Milano, il Dream Team (quasi al completo) si è riunito a Milano, precisamente da Vanilla Bakery per gustarsi un delizioso pranzo di Natale, terminato con degli ottimi Cupacakes natalizi! Ognuna di noi ha deciso d'indossare il proprio rossetto rosso preferito (o uno dei preferiti per alcune), perfetto per questo periodo! Abbiamo trascorso una giornata stupenda, fatta di chiacchere, risate e buon cibo: ma avranno resistito i nostri rossetti preferiti a tutto questo???
GABRIELLA: Nabla – Rumors 

La cosa che più ha colpito Gabriella di questa tinta labbra è stato il colore: veramente stupendo! Un rosso dai toni freddi, perfetto per la stagione. Il finish è matt ed è molto confortevole sulle labbra.

SIMONA: Cliomakeup Shop – Fire kiss 

Questo rossetto liquido è un rosso classico, leggermente accesso. È davvero ultra confortevole, ci si dimentica di averlo sulle labbra quasi, infatti non "appiccica" per niente! La durata è davvero molto buona, resiste all'acqua, va un po' via nella parte centrale mangiando cose molto oleose, ma sempre con discrezione e senza espandersi, infatti ha superato brillantemente anche questi peccaminosi cupcakes! Per me è il rossetto rosso per eccellenza, conferisce eleganza con una sola passata!

MARTINA: Nars – Don't Stop 

Super confortevole, pigmentatissimo, matt ma ancora più importante è il suo un colore intenso! Dura diverse ore e rimane sulle labbra anche mangiando, infatti ha superato a pieni voti tutto il pranzo, cupcakes golosi compresi! In tutta onestà, è uno dei rossi più belli indossati dal Dream Team, bravissima Martina, in altre parole: consigliatissimo!

CECILIA: Mary Jo K – Kylie Jenner 

Anche se Cecilia purtroppo non è riuscita a venire all'incontro, tuttavia ci tenevo a inserire comunque il suo rossetto rosso preferito, poiché un Team unito lo si vede nel momento del bisogno…. di una recensione make up! Ha scelto questo rossetto liquido firmato Kylie Jenner, è un rosso classico con sottotono freddo, tendente al blu, cosa che farà sembrare i vostri denti più bianchi! L'applicazione è molto facile ed il rossetto è molto pigmentato, colore pieno ed intenso con una sola passata. Lunghissima tenuta, resistente a cibo e bevande, però bisogna solo prestare un po' di attenzione per le sostanze oleose! Finish matt e no trasfer, unica pecca secca un po' le labbra.

LAURA: Cliomakeup shop – The winner is 

È un rossetto cremoso e pertanto molto confortevole, soprattutto in questo periodo dell'anno in cui le labbra tendono a seccarsi. Molto più duraturo rispetto ad altri rossetti cremosi, anche se dopo aver mangiato necessita di un piccolo ritocco. È un rosso molto classico, perfetto per le festività e le occasioni importanti

MARZIA: Sephora – Always Red 

Un rossetto liquido pigmentato ed a lunghissima tenuta, applicazione facilissima, e durata ottima anche durante i pasti! Colore intenso che vira quasi al rosso fragola, lascia una sensazione di comfort sulle labbra, e soprattutto non le lascia secche!

VANESSA: MAC – Feels so Grand

 Finish matt, dalla texture vellutata a lunga durata. Anche lei ha superato la prova cupcakes! Il colore è intenso e senza tempo, super glamour!
Spero che l'articolo vi sia piaciuto, fatemi sapere nei commenti che ve ne pare dei nostri rossetti preferiti, ma soprattutto fatemi sapere quali sono i vostri! Ci tengo a ringraziare Vanessa e tutto il Team per la realizzazione di questo articolo, per la splendida giornata che abbiamo passato da Vanilla Bakery a Milano, un posto davvero incantato dove abbiamo sentito davvero l'atmosfera natalizia, e abbiamo mangiato dei dolcetti sublimi, oltre che curati nei minimi dettagli! Vi lascio con una foto di gruppo scattata proprio quel giorno!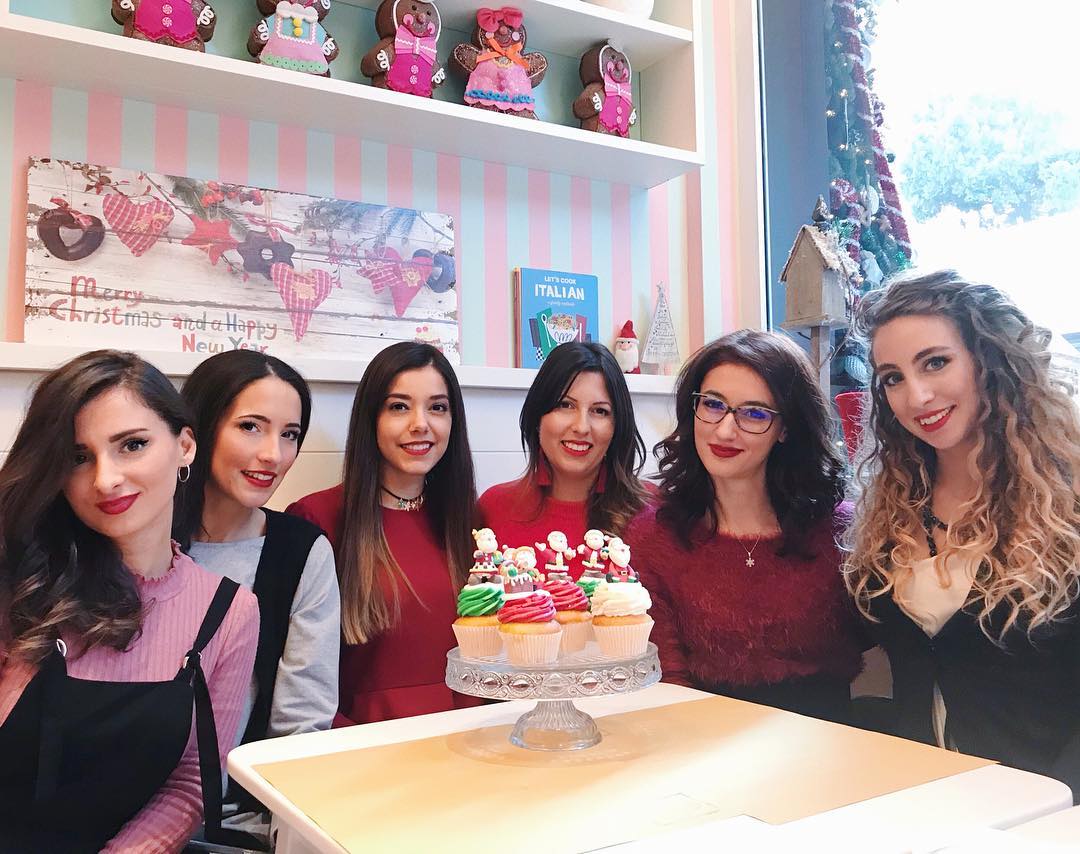 Vi mando un grosso abbraccio e vi aspetto nel prossimo articolo!
Simona🍓
Mi chiamo Simona, nome d'arte "Berry", ho 21 anni e lavoro come hairstylist.
Nel tempo libero gestisco un canale Youtube! Amo tutto ciò che fa parte del pianeta Donna: Make up, Outfit, Lifestyle, Haircare! Il mio scopo è quello di portare contenuti stuzzicanti ed utili, piccoli trucchetti e curiosità per migliorare ed alleggerire l'essere donna!